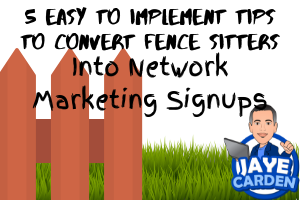 It seems everyone in network marketing has these type prospects to deal with.
You know the kind, the ones who say they are going to join with you, but never commit and signup.
So what can we do to turn our prospects from fence sitters to signups? Well, actually there is a few things we could try.
So from now on, when you get a fence sitter who says they are going to join, follow the tips below to convert the prospect into an actual team member and business partner.
Why Do People Sit On The Fence In Network Marketing?
The reason is, because they sit on the fence in almost every purchase they make. Just like you do too.
Network marketing is a purchase decision, and similar to the toys we buy for ourselves, we are interested in the product, but hesitate on dropping the coin for it.
So keep this in mind when you are network marketing prospecting and run into this issue.
They said they wanted to join, but haven't taken the step to buy in yet.
So our job becomes, helping them see the value in their decision, and converting them into team members.
Conversion Tip #1: The Paper Application Trick
Here is an effective method you can use to convert fence sitters into actual team members.
I call it the paper application trick, and I've had it work for me many times. As a matter of fact, this tactic works so well, I joined my primary company because they have an email system that uses this trick every week. That's how powerful it is.
The tactic works when you get a new signup. A new person has bought in.
Instead of placing their info into the back office, you keep it on a paper application, to process later that evening.
If you have a binary pay plan in your company, you can use this trick. Or if you have any bonuses set on a binary scale.
Simply begin calling all of your fence sitters, and letting them know of this new signup you have received.
You offer them the chance to get in before you process the order, and this gives the member a person underneath them in the binary, for their own business.
You continue doing this from each prospect, to the next. If you get a 2nd signup, you have 2 people to offer the next prospect.
As this continues, the offer becomes more and more desirable and hard to refuse.
Watch The Video Below For Scripts On This Tip
Conversion Tip #2: Invitation To Company Webinars
A good way to get people more excited, and to encourage them to move forward, is to let them hear the excitement.
By inviting them to upcoming webinars your company is hosting, you can turn these fence sitters into signups after the event.
Every time you get another prospect who says they want to get in, you keep them on a list to invite to these webinars and calls.
Continue inviting them until they either join with you, or change their mind. Either way, doing this will increase the conversion rate of your prospects.
Conversion Tip #3: Let's Party
Every company almost will host a live event somewhere.
Bring along as many friends as you can for the trip, fun, and entertainment.
Your fence sitting prospects will get to see how you are not the only person who is excited about the opportunity.
They get to have fun, and hear testimonies from people who have had tremendous success.
Live events convert more people then anything else, because of the environment and atmosphere of the event.
Conversion Tip #4: Build An Email List Of Fence Sitters
Anytime someone tells you they want to join, but will do so later, you must place them into an email list.
Having an email list where you can simply write one email, personalize it so it appears you wrote them individually, and send it to an unlimited amount of people, is how you get conversions.
Use the list to stay in touch, invite to webinars, promote events, and even let others know of the new signups.
By not having a list to contact your fence sitters, you will simply not get the same amount of conversions.
I use AWeber to build my lists, and recommend it over most all other autoresponders at this time.
Conversion Tip #5: Searching For Referrals
Here is a little tactic you can use when a person is not converting, or have mentioned prior that they aren't interested.
If a person says they are not interested, I never ask them about it again.
However, that shouldn't stop us reaching out to them and asking if they know someone who may be a good fit for whatever situation we present.
For instance, we can ask if they know anyone who has a specific condition the product helps with, someone who wants to earn extra money, someone who wants to travel to Las Vegas, etc.
This gives us one more shot at getting their attention, but at the same time acting like we think not to bother them with this "situation" we know they may want to be part of.
Use your imagination on this one, and if it doesn't convert the prospect like you thought it would, it may still lead to a referral of someone who will convert.
Turning Network Marketing Prospects From Fence Sitters To Signups
These 5 tips above may help you to convert more people from sitting on the fence, to getting in the game.
The overall idea, is to get more value into their eyes, so they can learn more on why they should make the purchase.
Network marketing prospecting works no different then any other type of prospecting.
When someone expresses an interest in purchasing something, the most successful companies know how to keep in touch with the prospect.
Using all types of communicating methods, and reminders of what they expressed interest in, is how you turn the highest possible number of fence sitters, into actual network marketing team members.
Did This Help?
If you got some good ideas, or have any ideas of your own you'd like to share, comment below with them.
Also, be sure to share this with anyone on your team who may be in need of getting more signups in their business.
And of course, most off all, be sure to share this on your favorite social platform. I value all those who share, comment and engage with my content.